The SFE Pro
Green Mill's premiere supercritical CO2 extraction system
Featuring full automation, and the most power for its footprint in the market. Designed for ease of use, consistent results, and repeatability. Software monitors and controls the entire extraction process, including flow rate, pressures, temperatures, and time. Touch panel interface means no knobs to turn or switches to flip.
Automation
After you press the Start button, the system runs itself. Other systems claim to be automated, but take a closer look and it's often not true. Our system switches extraction vessels for you, maintains all pressurizing and depressurizing, and has a built-in clean cycle. Heater blocks at valve outlets prevent clogging.
Vessels
When accessing your pressure vessels, simply open and close the high quality plugs with oversized threads by hand — no need for tools. You will shorten down-time between runs and limit wear and tear on parts.
Highly Selective Fractionation
You'll achieve a large variety in the types of product you can create in a single run, thanks to increased residence times made possible by three large collection vessels with independent pressure and temperature controls.
Heat Exchanger
High power, high efficiency heat exchanger pre-heats the CO2 for more stable temperatures in your extraction vessel.
Pump
We custom designed our own liquid displacement pump with the integrity of your product in mind. Four pistons means more consistent flow output at pressures up to 7,500 psi, which means more stable conditions throughout the system, resulting in consistent, repeatable performance. Wear and tear is reduced by running lower RPMs. No pre-compressor or 3-phase power required, avoiding high-cost installations. Learn more about extraction pumps.
software
You won't find a simpler, easier operating experience thanks to Green Mill's PC-based software, which allows you to create, save, select and run your recipes. We chose PC over PLC because of increased programmability and flexibility. Review your post extraction system performance with comprehensive data logging. Maximize your extractions with automatic density calculations and feedback.
Patented Dispersion Plate
This specially designed dispersion flow plate helps prevent pockets of "dead flow," maximizing the yield from your extractions. Reduced channeling means maximum extraction efficiency as all plant material comes into contact with CO2.
configurations & prices
All configurations achieve pressures of 7,500 psi, flow rates of 500 grams per minute, and are outfitted with the features listed above
SFE Pro
Single 7.5-Liter — $170,000
SFE Pro
Single 10-Liter — $186,000
SFE Pro Plus
Dual 7.5-Liter — $198,000
SFE Pro Plus
Dual 10-Liter — $210,000
throughput
As a baseline, a 7.5 liter extraction vessel will hold approximately 5.5 lbs of raw material which our clients tend to process in 2–5 hours. Downtime between runs to reload is about 40 minutes. On dual-vessel systems the software automatically switches from the first vessel to the second, saving you 40 minutes of reloading time between those cycles.
Our policy is to avoid giving static numbers to indicate throughput due to the variables involved in extractions. We are happy to spend time with you learning what type of material you will start with, what type of oil you want to produce, and how long your production days are, in order to give you a meaningful picture of what our system can do for you.
scale up with Green Mill
Sometimes the best way to go big, is to go small. The robustness of our engineering, true computer automation, and most notably, our compact footprint, mean our SFE Pro units can be arranged in an operational cluster to form a scalable, powerful, and versatile extraction operation. And unlike with our large-footprint competitors, the SFE Pro delivers the benefit of redundancy which virtually eliminates the risk of an operational problem halting your entire production.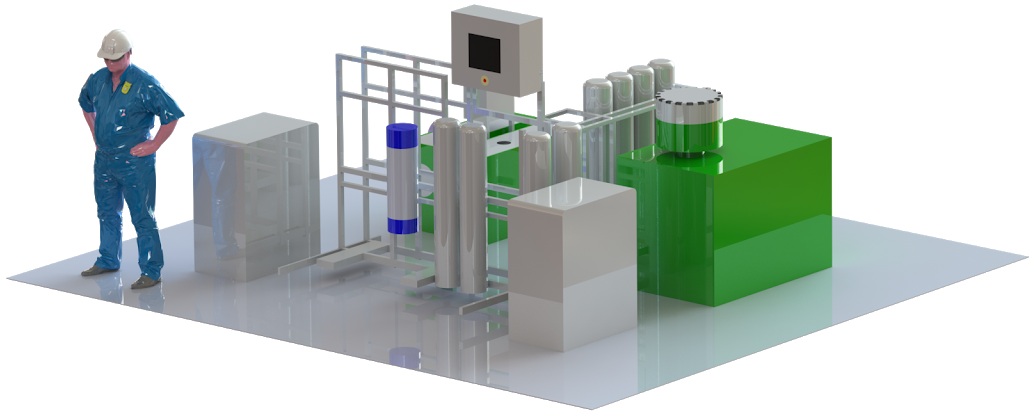 actual footprint according to the company's published space requirements
SFE Pro uses a fraction of the space
with the same advertised cost and throughput
contact us now to discuss your extraction needs